In order to assist in the resolution of logistical challenges that come with shipping any distance in Toronto, we offer shrink wrap services that ensure superb product packaging.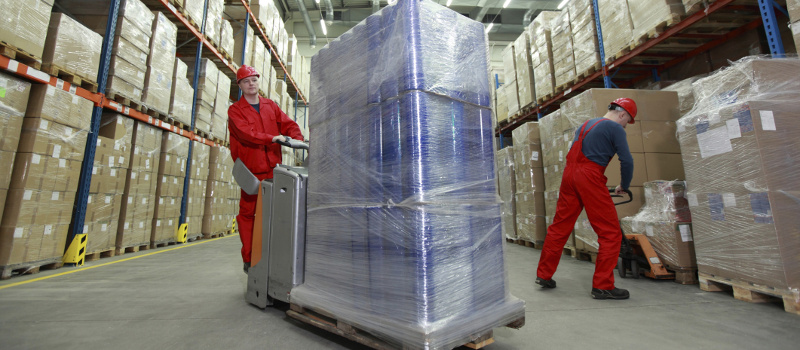 At Co-Pak, we are committed to providing viable supply chain solutions at every stage of your shipping process in Toronto, Ontario. Whether you ship locally or provide products to a global market, the way you pack and ship your products can make a big difference in the way your items are received, and ultimately in the way your company is viewed.
In order to assist in the resolution of logistical challenges that come with shipping any distance, at Co-Pak, we offer shrink wrap services that ensure your products arrive safely and securely at their intended destination.
The addition of shrink wrap to your shipments can be advantageous in many ways. For example, your products will be held more securely in their external packaging, and perishable items may be less likely to sustain damage during transit. Furthermore, when used in conjunction with other packing products, shrink wrap can enhance the security and safety of your products until they arrive. Shrink wrap also ensures that your customers receive their new products in superb condition per their expectations.
If you have considered applying shrink wrap to your packaging, but are finding that the cost and time during shipment processing is too great, we can help. We will listen to your requirements, develop a plan of action that works for both parties, and provide the shrink wrap services you need for shipments large and small.
Contact us at Co-Pak today if you would like more information about this specific service or our other capabilities that will enhance your packaging and shipment processes.
When you need to pack and ship your products and goods, it can often be the packaging process that becomes a source of anxiety. How will you ensure that your materials are safely transported and arrive at their destination in perfect condition?
We guarantee our shrink wrapping service can do a ton for your business and the products you produce in Canada. What's so great about shrink wrapping, and what can it do for your product?
---
Take your shrink wrap to the next level with Co-Pak's success oriented retail packaging solutions. Providing quality packaging products/services in Canada, Greater Toronto Area (GTA), Greater Montreal Area (GMA), Greater Vancouver Area (GVA), Calgary, Halifax. USA. Chicago, Toronto, New York, New Jersey, Los Angles, Dallas, Seattle, Atlanta, Charlotte, Kansas, Miami. Europe. London, Paris, Barcelona, Frankfurt, Milan, Prague, Budapest. ASIA. Mumbai, India, Bangkok, Thailand, Manila, Philippines, Hangzhou, Beijing, China, Colombo, Sri Lanka. Brazil. Sao Paolo.